KOREKYOJINN (Progressive Jazz Rock Polyrhythmique)

Tatsuya 

Yoshida

/ drums, compose (Ruins alone, Koenji Hyakkei, Zeni Geva, etc.)


Natsuki Kido 

/ guitar (Bondage Fruit, Salle Gavaux, Kiki Band, etc.)


Mitsuru Nasuno

 / bass  (Altered States, Umbeltipo, Ground Zero, etc.)

Formed in 1998 by Yoshida Tatsuya, Japan's KOREKYOJINN (alternately spelled Korekyojin) is a progressive-jazz-rock band determined to redefine the polyrhythmic ensemble. The band's name translates to "This Giant", a sly pun inspired by THIS HEAT and GENTLE GIANT, two band's the group draws inspiration from. In Japanese the word "kore" translates as "this", while "kyojinn" is "giant". While the style of KOREKYOJINN will be recognizable to fans of Yoshida Tatsuya's other acts, the band has carved out a sound all its own. The trio dance on razors, are sharp as a tack – and their overwhelming ability jettisons them into the outer limits – where progressive rock and contemporary jazz collide into a breathtaking, futuristic, hard rock funk.

KOREKYOJINN is an All-Star ensemble, comprised of the greatest talent Tokyo's fervent Avant/Prog rock scene has to offer:
Yoshida Tatsuya has proven himself a major force many times over in Japan's contemporary music scene. He is the founder of RUINS and KOENJIHYAKKEI, a member of ZENI GEVA, Yoshida has performed with ACID MOTHERS GONG, SAMLA MAMAS MANNA, John Zorn's PAIN KILLER. and has been cited by John Zorn as "[the] indisputable master drummer of the Japanese underground". In KOREKYOJINN, Kido Natsuki is leader and guitarist of the phenomenal cult prog rock band BONDAGE FRUIT. His "progressive-tango band" SALLE GAVEAU performed at the "Rock in Opposition" Festival in 2007, shocking audiences across Europe. GROUND ZERO's legendary bassist Nasuno Mitsuru to demonstrate the limitless potential of the "power trio". Nasuno is renowned for his uncanny abilities in the critically acclaimed band ALTERED STATES and his experimental progressive rock outfit UNBELTIPO.
Press Quotes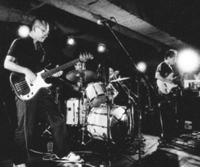 "…could school any number of modern "brutal prog" acts on how to string together 12 disparate sections into a 5-
minute tune and not have it come out a) disorganized, b) disjointed or c) too fucking insane to listen to." – Pitchfork
"12 out of 13. "Tundra" conjures up some mind bogglingly complex moments on and some of the riffs sound shockingly difficult to play; their mathy prog sound is also backed by some really solid Classic Rock moments with chunky guitars giving a more meaty edge. This is hardly easy listening, however these are brilliantly played pieces, which you just can't turn off once you start listening. If you appreciate prog, math or even classic rock – or are just looking to hear something a bit different Korekyojinn are sure to impress." – Room Thirteen
"An essential collaboration between three of the best players on the Japanese progressive rock scene." – Prog Archives
Albums

KOREKYOJINN

  tzadik TZ7223  1999

A track very heavy with funk-bass gets things started on this self-titled side project of the Ruins' Yoshida Tatsuya. By the second number, however, grinding guitar provides a static edge, letting the audience know that this is not something straight out of the '70s. By the end of the same track, everything has descended into apocalyptic collapse. Korekyojin's addictive groove makes it really impossible, however, to not want to come along for the ride. The music is frenetic, but never chaotic. Every single, psychotic element is perfectly in its place. Despite its hard edge, the album doesn't stray far from standard funk-jazz. Tatsuya may not be wading too deeply into theory here, but he seems to be having a great time.

A new band from Yoshida Tatsuya, leader of Ruins, & featuring guitarist Kido Natsuki [Bondage Fruit]. "…a burning instrumental trio mixing the raw power of rock music, the wild edge of improvisation and the complex stop on a dime compositional structures that Yoshida & very few others have made famous." [Tzadik]

ARABESQUE

  magaibutsu MGC-23 2004

Audio clip: Adobe Flash Player (version 9 or above) is required to play this audio clip. Download the latest version here. You also need to have JavaScript enabled in your browser.

ISOTOPE

(Live) tzadik  TZ7257 2006

This is the 3rd release from this this excellent instrumental Japanese band featuring drummer Yoshida Tatsuya, leader of Ruins and Koenjihyakkei, & also featuring guitarist Kido Natsuki [Bondage Fruit] and bassist Nasuno Mitsuru [Altered States]. This band is one of my favorite things that Yoshida is involved with – and heaven knows that he's involved with a lot of good stuff! For some reason Yoshida has decided to let their very excellent 2nd release go out of print (only about 3 months after it was released!) and to replace it with this excellent (but not as well recorded) live album of many of the tracks. Excellent, but I can't say that I am happy to see Arabesque be gone so quickly. Basically this has good structures for the band to work their magic around, but enough looseness that they can really take off and roar. Highly recommended if you like Yoshida's work, Bondage Fruit or great, heavy power trios. [Tzadik]

Tatsuya Yoshida has probably now supplanted James Brown as the hardest working man in show business. He leads several groups in addition to his long-standing Ruins, participates in several more, and even finds time to do some freelance drumming as well, with people like Satoko Fujii. Isotope is the latest release from Korekyojin, which consists of Yoshida on drums, Nasuno Mitsuru (Altered States, Ground Zero) on bass, and Kido Natsuki (Bondage Fruit) on guitar. Musically, this is clearly Yoshida's baby: He wrote all the tunes, and they all bear the stamp of his patented polyrhythmic, stop-on-a-dime-and-change-direction, bouncy, funky, avant-prog fun. The songs are all fairly complex, and clearly composed pretty much all the way through. Given those parameters, you might not think this album would be as fun as it is, but that's part of Yoshida's genius. He's a precision-oriented whirling dervish of a drummer, and Mitsuru's got a big, fat, punchy bass sound and chops to spare. Natsuki may not be as well-known, but he's a damn good guitar player who nimbly plays the composed parts and gets in some nice (albeit brief) solos when the tunes give him a bit of room. The songs may be challenging to play, but they're a lot of fun to listen to, and the virtuosity of the band really becomes apparent when you realize that Isotope was recorded live (except for the first track). Yoshida/Ruins fans will eat this up, but anyone interested in punk/funk instrumentals or math rock should really check this out. Hot stuff.

JACKSON

  magaibutsu  MGC-29 2008

Incredible complex and driving rock from Ruins drummer Tatsuya Yoshida, the 4th as a trio under the name Korekyojinn. These are incredible compositions, precise twisting-turning instrumental pieces with a momentum that should make Robert Fripp shudder. There are no weak links, with enormous strength drawn from Tatsuya's massive propulsion, Kido Natsuki's quick sinewy guitar lines, and Nasuno Mitsuru's unexpected pivots and fat bass sound. This is one amazingly tight and concentrated band that remembers that rock is ultimately upbeat, highly energetic music.

Audio clip: Adobe Flash Player (version 9 or above) is required to play this audio clip. Download the latest version here. You also need to have JavaScript enabled in your browser.

SWAN DIVE

(CD/DVD)  magaibutsu MGCDV-02  2009

This is the 5th release from this this excellent instrumental Japanese 'progressive jazz rock band focused on polyrhythms' featuring drummer Yoshida Tatsuya, leader of Ruins and Koenjihyakkei, & also featuring guitarist Kido Natsuki [Bondage Fruit] and bassist Nasuno Mitsuru [Altered States]. This band is one of my favorite things that Yoshida is involved with – and heaven knows that he's involved with a lot of good stuff! The CD is based on improvisational sessions and includes a couple of tracks with guests Hoppy Kamiyama and Uchihashi Kazuhisa. The DVD quite clear and pretty well shot and is them in a sweaty club making a grand roar – this is taken from 3 shows between 10/2006 and 11/2008 and is all pieces composed by Yoshida which basically have good structures for the band to work their magic around, but enough looseness that they can really take off and roar. The CD is 78 minutes long and the DVD is 71 minutes long. And how soon do you think these guys are coming to your town? Highly recommended if you like Yoshida's work, Bondage Fruit or great, heavy power trios  (WAYSIDE MUSIC)

TUNDRA

  magaibutsu MGC-37 / SKINGRAFT 2011

This is Korekyojinn's 6th release and another great, great power-trio release by this excellent Japanese band featuring amazing drummer Yoshida Tatsuya, leader of Ruins and Koenjihyakkei, mighty guitarist Kido Natsuki [Bondage Fruit] and astounding bassist bassist Nasuno Mitsuru [Altered States]. This band is one of my favorite things that Yoshida is involved with – and heaven knows that he's involved with a lot of good stuff! The basic framework of a good Korekyojinn album (and I think this is the best one yet) is that they have good structures for the band to work their magic around, but enough looseness that they can really take off and roar. Highly recommended if you like Yoshida's work, Bondage Fruit or great, heavy power trios. As a friend pointed out (something I never noticed, but once he pointed it out, I had to agree) it's obvious that these guys really like Yes, combined with heavier music, such as Magma; at its best, this reminds me a lot of the very heaviest guitar/bass/drums sections of Yes (think of the opening few minutes of Close to the Edge) with everyone just going full-throttle around a basic theme) but combine it with Christian Vander-esque drumming. Totally great; I can't recommend this enough.

Audio clip: Adobe Flash Player (version 9 or above) is required to play this audio clip. Download the latest version here. You also need to have JavaScript enabled in your browser.

DOLDRUMS

/ Korekyojinn with Tsuboy Akihisa  MGC-41 2011

This is the 7th great release by this super Japanese power trio featuring amazing drummer Yoshida Tatsuya, leader of Ruins and Koenjihyakkei, mighty guitarist Kido Natsuki [Bondage Fruit] and astounding bassist bassist Nasuno Mitsuru [Altered States]. But this time there's a real twist – and a great twist at that. This time, they've added violinist Tsuboy Akishisa (of KBB) as a full member on this release. The addition of violin to the intense guitar/bass/drum interplay and twisty compositions surprised me by reminding me a lot of Boud Deun! Now this comparison isn't constant – this isn't the second coming of the amazing Boud Deun or anything, but the Mahavishnu-esque lines combined with the punky energy here and the general tone of the guitar, bass and violin really do at times remind me of them! Really great, wacky prog fusion and it's recorded live, giving it that over-the-top energy that only a live performance can give off! Highly recommended!

Audio clip: Adobe Flash Player (version 9 or above) is required to play this audio clip. Download the latest version here. You also need to have JavaScript enabled in your browser.
KOREKYOJINN EUROPE TOUR 2012 OCTOBER
  3rd wed.  CAFE OTO (London/UK)  http://www.cafeoto.co.uk
  4th thu.    Musikcaféen (Copenhagen/DM)
  6th sat.    INDUSTRIESTRASSE 9 (Luzern/CH)
  7th sun.   REITSCHULE (Bern/CH) www.reitschule.ch/reitschule/index.shtml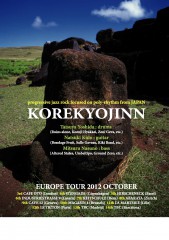 KOREKYOJINN EUROPE TOUR 2013 september
17th ABARAYA (Zurich)
20th CIRQUE ELECTRIQUE (Paris)
22nd TBA (Berlin)
28th FREAKSHOW FESTIVAL (Wurzburg)